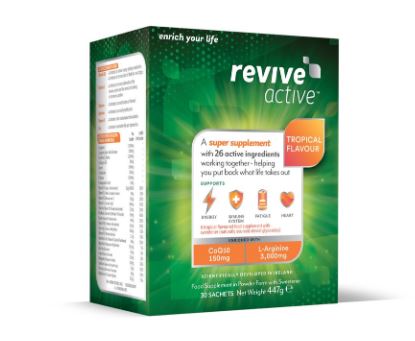 Same Super Formula, New Super Tropical Taste.
Revive Active Tropical - No Longer Limited Edition
Revive Active, Ireland's Number One Super Supplement Brand** has just announced that after six months on the market, the limited edition Revive Active Tropical Flavour has become a permanent product within the award-winning range.
This new flavour is the same super supplement containing all the premium ingredients that are in the Revive Active Orange and Mango flavour, all with a tropical twist.
Support Your Energy, Heart Health and Immune System
Revive Active has been formulated for adults over the age of thirty-five to support their energy levels, heart health and immune system whilst reducing fatigue.
It contains 26 active ingredients, this includes 11 vitamins, 7 minerals, 6 amino acids, D-Ribose and CoQ10 all in one convenient powdered sachet which is simply added to water to drink on the go.
Consuming the ingredients in this way helps with the absorption in our bodies as vitamins and minerals dissolved in liquid form are absorbed in the body more easily than in a tablet or capsule.
A Proven Favourite
Eolas International* carried out a research study that looked at a target group of 150 individuals including busy professionals, active ageing, athletes, and sports enthusiasts.
The testing method included giving both target groups 3 sachets of the original orange and mango flavoured Revive Active and 3 of the New Revive Active Tropical Flavour and trying this over six days.
The research showed that over 74% preferred the New Revive Active Tropical Flavour and 26% preferred the original Revive Active.  This research rubber-stamped the decision that the delicious new tropical flavour is here to stay.
Revive Active Key Ingredients 
Two key ingredients within Revive Active are CoQ10(150mg) & L-Arginine (3,000mg).
CoQ10 is found in all cells of the body with higher levels found in the heart, liver, and kidneys. It is an antioxidant that plays a critical role in cellular energy, and which decreases naturally in the body as we get older.
L-Arginine is an amino acid which is a precursor to nitric oxide.
Free From Preservatives, Artificial Colours and Stimulants
Revive Active Tropical is the perfect supplement for those living busy active lifestyles, active aging and sports enthusiasts.
All products in the Revive Active portfolio are free from fillers, binders, preservatives, artificial colours, caffeine, and other stimulants, and its powdered formula supports more effective nutrient delivery.
The Revive Active super supplements are not suitable for consumption when pregnant or breastfeeding.
You can shop Revive Active Tropical Now on Special Offer 20% Off online exclusive.
Revive Active Tropical is also available in your local McSharry Pharmacy where you can avail of expert advice from our Healthcare professionals located in Galway – Athenry, Claregalway , Terryland, Westside, Knocknacarra , The Crescent .
Athlone – Honey Pot , Golden Island and Mardyke St 
Roscommon – Castlerea
---
---