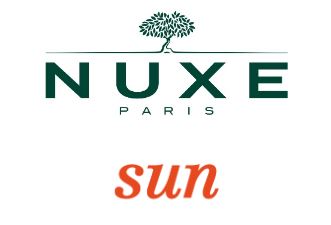 Paying Attention To Women's Needs..
NUXE set out to develop uncompromising sun products that are effective, safe for the skin but also have luxurious textures and a beautiful scent.
Although the sun is essential to our health it also causes biological reactions on the skin, the effects of which can sometimes be harmful.
Both UVA and UVB rays which are emitted by the sun both impact the skin differently.
Effects Of UVB
The effects of UVB rays on the skin include sunburn which is caused by over exposure to the sun.
Sunburn is an inflammatory response by the skin. After the skin turns red and painful the body then eliminates the injured skin cells, which are too damaged to be repaired and the result is the skin peeling.
UVB rays are also responsible for tanning which is an increase in the production of melanin. This pigment is produced in specialised cells called melanocytes and act as a natural UV filter.
Tanning is therefore a defence mechanism by the skin in response to sun exposure.
Lastly UVB rays are also the cause of brown spots. These spots are localised piles of melanin in reaction to repeated UVB exposure. These spots occur in the areas most exposed to the sun; hands, neckline, face, shoulders etc.
Effects Of UVA
UVA rays on the other hand penetrate the deeper layers of the skin and are responsible for photo-ageing which is premature ageing of the skin caused by overexposure to UV rays.
This leads to the formation of excess free radicals which damage the cell structure, collagen and elastin.
The skin can become thick, dry and yellowish and lacks elasticity. Wrinkles deepen and irregular pigmentation develops.
The damage caused by UV rays is different and is additional to that caused by chronological ageing. On skin exposed to the sun, 90% of the signs of ageing are attributable to the sun.
UVA rays are also associated to immediate pigmentation. This is rapid browning of the skin that appears minutes after sun exposure and lasts only a few hours. This tan is mainly due to oxidisation of pre-existing melanin's in the skin, under the effect of UVA. 
UVA rays are also responsible for polymorphous light eruption which is an allergic reaction which presents as spots and red patches on areas not used to the sun – arms, legs etc. It appears during initial exposure and may last a few days and gradually fades with tanning. 
Protect Yourself From The Sun
In addition to these risks UVA and UVB may damage the DNA of cells, with an increased risk of developing skin cancer.
Two thirds of melanomas are caused by excessive UV exposure. It is therefore essential to protect yourself.
Nuxe have created a range of sun products that have highly effective formulas which are safe for the skin and ocean.
Nuxe have a patented filter system to achieve a high level of protection. There are 3 UV filters in Nuxe sun products which offer broad spectrum efficacy – protection against UVA and UVB rays.
The formulas are well tolerated on the skin, non-irritating and have minimal impact on the marine eco system. The formulas are water resistant and developed according to our clean beauty chart, and rated green on Yuka.
All Nuxe sun products come in eco-designed and recyclable packaging.
The Nuxe Sun Protection Range
There is a large choice of irresistible textures in the Nuxe Sun range
Addictive oils: for nourishing and satiny texture lovers. 

Delicious sprays: for ultra-light texture addicts.

Melting lotions: for those who prefer enveloping textures. 
The products have a luxurious, non-sticky finish and leave no white cast on the skin.
Nuxe tanning oils are the number 1 tanning oils in French pharmacies.
The sun products have a divine sunny fragrance with notes of sweet orange, tiare flower and vanilla. This scent is  so popular that it is available as a fragrant water to prolong the scent on the skin.
The after-sun lotion contains carob powder a natural origin tanning enhancer that prolongs tan for up to two weeks longer and aloe vera for moisturising sun kissed skin. 
Nuxe Sun products are available for both face and body. Face protection products are available in SPF30 or SPF50 while body protection products are available in SPF10, SPF30 and SPF50. 
The perfect accompaniment to Nuxe Sun is the iconic Huile Prodigieuse, one bottle is sold around the world every 11 seconds.
The oil, with a unique dry texture and an irresistible scent will nourish, repair and beautify and can be used on the face, body and hair.
Huile Prodigieuse Or contains shimmering mineral particles to nourish, illuminate and leaves a golden satin finish. Perfect for enhancing a sun kissed glow. 
NUXE products are available in your local McSharry Pharmacy.
Galway - Knocknacarra, Westside, Terryland, The Crescent, Claregalway, Athenry. 
Roscommon -  Castlerea 
Westmeath - Golden Island, Athlone.
---
---