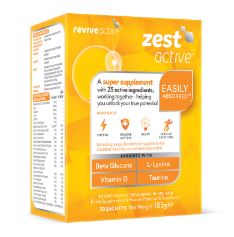 Zest Active by Revive Active
Now that we are officially into the summer months with festivals and concerts back in full swing, you may need a little extra support to ensure your energy levels are well supported.
Whether you are jetting off on holiday or going away to the sunny southeast for the weekend, Zest Active by Revive Active super supplement sachets are a convenient essential to pack for travelling this summer, as they can easily fit into your cosmetic bag or suitcase, so you will never miss a day of getting your daily goodness.
Zest Active has been scientifically formulated with 25 active ingredients, to boost your energy while also supporting your muscle function, brain, and immune system throughout the summer.
Zest Active has hero ingredients included in each sachet, Vitamin (B2), Niacin (B3), Pantothenic Acid (B5) and Vitamin B12. Zest Active is designed for people with busy lifestyles, health-conscious, fitness enthusiasts, and those who are always on the go. 
Nathalie Lennon, Zest Active Brand Ambassador, commented:
Life is always hectic, but particularly during the Summer when we are trying to make the most of the adventure friendly weather, family outings & outdoor events. Zest Active keeps my energy & immune system supported so that I can ensure I'm at my best while trying to balance my training, work, family & friends. With my endless busy schedule, it reassures me that I am supporting myself through it all. I never go anywhere without it; it is the only step in my morning routine that has remained unchanged for years now.

 
Zest Active hero ingredients include:  
Beta 1,3/1,6 Glucan derived from baker's yeast 
L-Lysine, L-Theanine and Taurine  
Pantothenic Acid (B5) contributes to normal mental performance.  
Zinc contributes to normal cognitive function 
Vitamins B6, C, & D, Zinc, Copper, Folate and Selenium all contribute to the normal function of the Immune System
Magnesium contributes to normal muscle function
It is recommended to take one sachet per day mixed with 250–300mls water first thing in the morning on an empty stomach. 
Zest Active is free from fillers, binders, preservatives, artificial colours, caffeine and other stimulants, and its powder formula supports more effective nutrient delivery compared with a capsule or tablet.
It is vegan and vegetarian friendly and is a gluten-free supplement suitable for people with coeliac disease. It is also suitable for diabetics. 
Price: €34.95 Now on Offer Online 
You can also shop Revive Active Zest in your local McSharry Pharmacy, located in Galway in Athenry, Claregalway, Terryland, Westside, The Crescent, Knocknacarra.
Athlone – The Honey Pot and McSharry Pharmacy Golden Island and Mardyke St 
Roscommon – McSharry Pharmacy Castlerea
About Revive Active 
Daithí O'Connor founded Revive Active in 2011 with one vision in mind – to be the leading health supplement company globally. Revive Active passionately believes in doing things right. From humble beginnings, Daithí backed his vision with everything he had and built a successful business with strong foundations. The unique products are formulated and made in Ireland, where they are exported around the world.  
The Revive Active range of ten super supplements enriches people's lives by offering high-quality ingredients in a powder form for quicker absorption when diluted and taken as a drink. They can become an easy everyday ritual for busy lives, offering tailored nutrition for each life stage. 
---
---