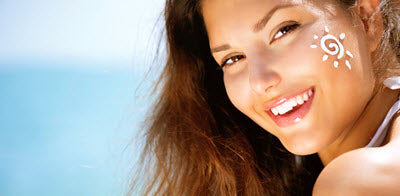 Have you ever wondered around your local pharmacy looking at the sunscreen section and felt really confused?
Which SPF (Sun Protection Factor) should you buy?
What makes facial sunscreens different?
Should you get a cream, lotion or spray? 
Do you even need sunscreen in Ireland? 
(The answer to that last question is "Yes!" but more on that in a minute).
Today's blog post is going to concentrate on SPF for the face and why it is so important to use it everyday.
Skincare experts agree
If you ask any skincare expert, including dermatologists and beauticians, about skincare and protecting your skin from premature aging they'll all agree that sunscreen is the key.
Sun care products have come a long way in the last few years and formulas have evolved into lightweight wearable skincare rather than the thick, greasy creams you remember from years ago.
What does sun damaged skin look like?
When you think of sun damage, the first image that springs to mind is probably wrinkles and age spots.
But that's only the tip of the dermatological iceberg. Exposing unprotected skin to the sun can cause deeper changes in your skin.
The most common issues are that your skin feels rougher and looks dry. You might even notice a wrinkle or two that weren't there the last time you checked.
Other issues include uneven skin tone, lots more freckles that you're used to and even the appearance of moles.
How can you protect your skin from the sun?
The best way to prevent sun damage is to use sunscreen every day, even on cloudy days.
People sometimes assume that just because the sun isn't blazing in the sky that the ultraviolet radiation from the sun comes right through those clouds and onto your face.
You can get sunburn on an overcast day - just because the sun isn't blazing in the sky doesn't mean that the ultraviolet radiation from the sun won't come right through those clouds and onto your unprotected face.
That's why you absolutely do need to use sunscreen in Ireland. We might not get as much sun as equatorial countries, but it's still more than enough to cause premature skin ageing. 
Choosing a sunscreen for your face
La Roche Posay is renowned for providing us with affordable, effective sunscreens suitable for everyday use on all skin types.  
All of their sun creams guard the skin against harmful ageing UVA and cancer causing UVB rays. They don't clog pores or cause breakouts and are free from parabens too.
The LRP Anthelios Age Correct SPF50+ is widely considered the gold-standard in the fight against signs of ageing. This includes reducing hyperpigmentation and, most importantly, reducing the risk of skin cancer caused by sun exposure.
This sunscreen is packed full of active ingredients such as hyaluronic acid for hydrated plump skin, niacinamide for minimising the appearance of pores and improving uneven skin tone, LHA, a chemical exfoliant for a blemish free complexion and most importantly SPF 50+. This is the perfect lightweight cream moisturiser for normal to dry skin.
Tinted sunscreen vs. non-tinted
If you would prefer your sunscreen to provide both cosmetic and functional benefits then a tinted SPF could be exactly what you're looking for. 
Tinted sunscreens are great for helping to reduce the number of products and steps in your morning beauty routine by replacing moisturiser, sunscreen, primer and foundation with a single product. 
The Anthelios Pigment Correct Sun Cream boasts a hypoallergenic formula, is supercharged with antioxidants, niacinamide and glycerin, has mineral pigments to even the skin tone and is just as effective as its untinted counterparts.
If you have oily skin you might be tempted to skip the SPF step because of previous run-ins with heavy, greasy pore-clogging formulas.
You're not alone in feeling that way. 
But we're here to tell you that sunscreens really do exist for your skin type. 
La Roche Posay Anthelios Oil Correct SPF50+ blocks UV rays while simultaneously working to correct the look of imperfections. Actives salicylic acid and niacinamide gently exfoliate for an even skin tone whilst the non-oily breathable formula helps mattify the complexion.
Summary
So, you see there really is the perfect SPF for everyone. 
One last thing though - most people do not use enough sunscreen. 
The easiest way to remember how much to use is the 2 finger rule - squeeze a generous amount of sunscreen on your pointer and middle fingers, from the palm to your fingertips. 
And don't forget to apply your sunscreen on your ears, the top of your head, and all around your neck.

P.S. We've put together an in-depth FAQ page to answer your questions about sunscreen.
---
---